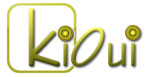 At KiOui our goal is to save you time as well as helping sellers automate daily tasks. Freeing you from the daily manual process will help you keep your sanity and will also help you grow your business.
With our apps, you will be able to run your business more efficiently, faster and you will have more time to source and list new items.
Whether you are a new online seller or a seasoned seller, we are here to make your life easier.
Read More: What is an API?    Read More: What is the eBay API?    Read More: Why use our Apps?